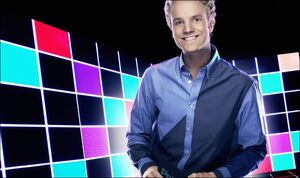 Popstokk er et fredagsprogram som går samme tidspunkt som Beat For Beat gikk før. Popstokk blir ledet av Erik Solbakken. Prosjektlederen av programmet heter Stig Karlsen.
Sesong 1 innerholder 8 episoder. Sesong 2 innerholder 14 episoder.
Dette er «Popstokk»
Edit
I hver episode er det to kjendislag som kjemper mot hverandre i musikalske konkurranser av ulike slag
Det blir popquiz, sang og fysiske oppgaver
Deltakerne må blant annet synge kjente norske sanger på forskjellige språk, som for eksempel japansk
I hvert program dukker det opp et kjent fjes - utkledd som en artist. Hit kommer både Prince og Johnny Cash
Eksterne lenker
Edit
Ad blocker interference detected!
Wikia is a free-to-use site that makes money from advertising. We have a modified experience for viewers using ad blockers

Wikia is not accessible if you've made further modifications. Remove the custom ad blocker rule(s) and the page will load as expected.