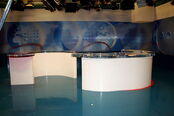 Dagsrevyen er et norsk nyhetsprogram som sendes hver dag klokken 19 på fjernsynskanalen NRK1. Fra september til desember 2007 ble Dagsrevyen sendt i samsending med NRK2. Programmet refereres gjerne til som NRK fjernsynets flaggskip, og det er en av landets sterkeste merkevarer. Med opp mot 1 million seere daglig er Dagsrevyen Norges største og viktigste nyhetssending på fjernsyn. Dagsrevyen er Norges største nyhetsredaksjon med en omkring 200 ansatte medarbeidere i inn- og utland. Redaksjonen holder til i fjernsynshuset på Marienlyst i Oslo som en del av nyhetsavdelingen i NRK.
Programmet har utvidet sendetid på lørdager og søndager og går da under navnene Lørdagsrevyen og Søndagsrevyen . Disse to sendingene har flere innslag som går mer i dybden enn programmet på hverdagene. Dagsrevyen hadde i mange år en sendetid på 30 minutter, men fra 4. januar 2010 ble dette utvidet til 45 minutter.
Ad blocker interference detected!
Wikia is a free-to-use site that makes money from advertising. We have a modified experience for viewers using ad blockers

Wikia is not accessible if you've made further modifications. Remove the custom ad blocker rule(s) and the page will load as expected.