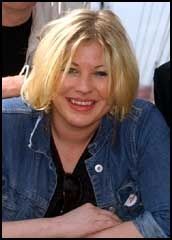 Anne-Kath. tatt for fyllekjøring
Edit
Den profilerte NRK-komikeren Anne-Kat. Hærland ble stanset av politiet med promille i blodet tirsdag morgen.
Av Ståle Winterkjær (VG Nett) 11.11.2003 kl. 21:53
- Jeg beklager og er veldig lei meg. Jeg var i et middagsselskap dagen før, men sto likevel tidlig opp og ville kjøpe avisene.
- Dessverre, og det beklager jeg, regnet jeg ikke timene fra siste vinglass til jeg satte meg i bilen. Beklager, skriver Anne-Kat. Hærland i en skriftlig beklagelse av hendelsen.
Hverken NRK-programlederen eller hennes manager Grethe-Laila Fjelberg vil kommentere saken ytterligere.
Ad blocker interference detected!
Wikia is a free-to-use site that makes money from advertising. We have a modified experience for viewers using ad blockers

Wikia is not accessible if you've made further modifications. Remove the custom ad blocker rule(s) and the page will load as expected.